Service d'éditeur (cartes et brochures)
Transmanche n'édite pas seulement ses propres produits, mais aussi des cartes ou d'autres documents de haute qualité pour clients du service public. Working from its home-produced inland waterway maps and data base, Transmanche is able to produce books, brochures and maps covering the inland waterways on all continents, with vector maps ready to insert after tailoring to the client's requirements.
This is how Euromapping came to be the supplier of the United Nations Organisation (Economic Commission for Europe), for its own map of European Inland Waterways.
>
Order
the UN-ECE Map of European Waterways!
Another publication, little known because it was produced in only 200 copies (in 1997), is the submission document justifying the case for the famous Canal du Midi in Southern France to be included in UNESCO's World Heritage List, including original cartography of the canal at 1:25 000. Part of the argument in favour of this listing was taken from Tom Rolt's book, From Sea to Sea (see book list).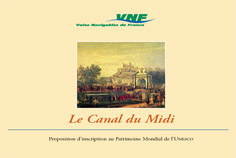 ---
Transmanche is a partner of EurEauWeb Ltd (UK), for publication of the all-in-one satnav guide to European waterways. (France, UK add Ireland editions currently available). The hi-resolution GIS mapping of the waterways is crafted by our cartographic team, and completed by points of interest in 120 categories. European boaters are currently adopting this valuable product, with service information frequently updated.
Extracts of our European, Irish and North American maps are adapted and supplied at different scales for the various authorities for their domestic and international communication requirements. Euromapping thus includes among its clients for tailor-made waterways maps the waterway authorities or promotional organisations in Ireland, the Netherlands, the Czech Republic and South-West France. For all publishing and cartographic services, contact our publishing department.