Description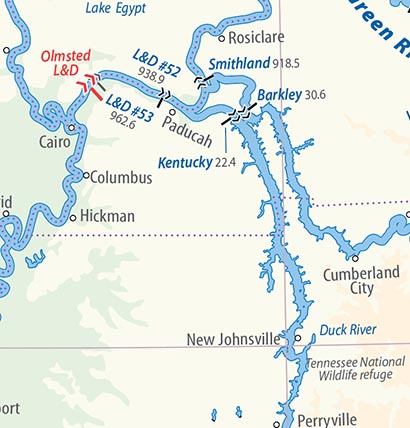 The second edition of the
North American Inland Waterways map
, covering the entire network of inland waterways throughout the USA and Canada, is now available. It Includes historic and current navigable waterways. Ideal for users of inland water transport and scholars, 'Great Loop' cruise planning and exploring the routes and vestiges of the historic canals. The large folded map covers USA and Canada from Sioux City on the Missouri in the west to Maine and Quebec in the east, and from Lake Superior to southern Florida, with enlargements for the canals of New York State and Ontario, the Chesapeake and Ohio Canal, the Columbia-Snake Rivers, Nova Scotia, the navigable rivers in California and the Red River around Winnipeg. The map was first published in 2005. The extract left shows the level of detail provided, unprecedented for an overview map. The extract shows the area around Olmsted Lock and Dam, currently under construction on the Ohio River, the first when heading upstream from the Mississippi River at Cairo, also showing the lower sections of the Tennessee and Cumberland Rivers.
This map of North American Inland Waterways will assist the inland waterway user, educator, researcher, appreciator and bystander in pursuing their particular interests for years to come. The broad scope of this work combined with its great detail make it a most useful tool.
' (Thomas X. Grasso, Former President of Inland Waterways International and Past President of the Canal Society of New York State). Dimensions open: 1210 by 870 mm (47½ by 34¼ in), folded 172 by 292 mm (6¾ by 11½ in) Scale 1:2 900 000 (enlargement 1:1 700 000).